Rachel L. Schlabach, 74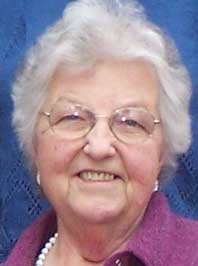 GREENWOOD - Rachel L. Schlabach of Greenwood died at home Sunday, Dec. 25, 2005. She was 74.
Mrs. Schlabach was born July 16, 1931, in West Liberty, Ohio, daughter of the late Laban L. and Nanna Bender Swartzentruber.
She lived her life with enthusiasm in service of others. She was involved in church planting, Bible teaching, bookrack evangelism, youth ministries, business ventures, retreat ministries and lay counseling. She loved music, reading, family and nature and is remembered for her leadership abilities, interest in people, innovative ideas and organizational skills.
Mrs. Schlabach was a charter member of Crossroads Community Church in Bridgeville.
In addition to her parents, she was preceded in death by two sisters, Marian Hostetdler and Vida S. Huber.
She is survived by her husband of 55 years, S. Titus Schlabach; five children and their spouses, Delmer T. Schlabach and Angie Ortiz-Diaz of Aibonito, Puerto Rico, Louise S. and William DiGennaro of Lenox, Mo., Walter L. and Kendra (Hartman) Schlabach of Greenwood, Nan S. and Ken Garber of Elizabethtown, Pa. and Charles D. and Amy (Montozzi) Schlabach of Greenwood; 21 grandchildren; a great-grandchild; three sisters, Esther Diener of Archbold, Ohio, Dorcas Miller of Greenwood and Dorothy Steckley of Carstairs, Alberta, Canada; a brother, Clayton L. Swartzentruber of Lansdale, Pa.; and her father's second wife, Fannie Yoder Swartzentruber.
She was interred at Greenwood Mennonite Cemetery, Greenwood.
The family suggests contributions to Delaware Mennonite Historical Society, 12447 Beach Highway, Greenwood, DE 19950; or to Crossroads Community Church, 18414 Sandhill Road, Georgetown, DE 19947.
Arrangements by Fleischauer Funeral Home, Greenwood.